---
---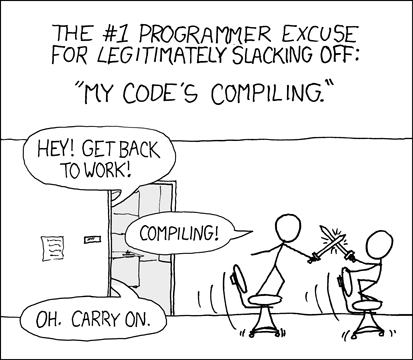 The build of a component of the software I am working on, takes 15 minutes to complete… before, remember to stop the appserver, and after start it back again. Then login, and retest your steps with remote debugging…
The build system is a kind of proprietary module-based build, involving code generation for database, logging (!!!) etc. making 5 or more copies of every file, that you have to keep inside your eclipse project (making editing the right one more difficult, and having more place to be searched). I hate it with all of my heart.
Yes, I am using Eclipse, but only as editor: at the beginning I was trying to solve the problem: after a couple of days trying to configure the crazy project structure I gave up. This is first time I am unable to configure an IDE profitably to a Java project. I mean, to exploit hot code replacement in place debugging, compilation, refactoring, and all the quickness offered by modern IDEs. We can just use editor and code completion. Full stop. And run boring build every time.
Nothing to do: it will be much difficult and risky to extract a wise project structure from the current one; I think it will never be made.
I think this is #1 productivity and fragility problem in current project. This has been a chance to rethink how important is to have an intelligent project structure, build and development process.
We should bring a chessboard in office.
More comics from this site: A webcomic of romance, sarcasm, math, and language.
---
---
Search
Calendar
August 2007
M
T
W
T
F
S
S
« Jul
Sep »
1
2
3
4
5
6
7
8
9
10
11
12
13
14
15
16
17
18
19
20
21
22
23
24
25
26
27
28
29
30
31
Follow me
Archives
Listening
Blogs I like

Books on the desk

Friends' Blogs

Links